Plant Genomic DNA Kit (ref 4992201)
Storage

Room temperature (15-25℃)

Description

The Plant Genomic DNA Kit provides a fast, simple, and cost-effective genomic DNA extraction method for routine molecular biology laboratory applications. It's especially suitable for genomic DNA purification from powder or polysaccharide/polyphenolics rich plants. The kit is based on the silica membrane technology and a unique buffer to eliminate polysaccharide, polyphenolics, and enzyme inhibitors. Plant Genomic DNA Kit is ready-to-use to purify the genomic DNA from a wide variety of plants. The purified DNA is suitable for PCR, restriction enzyme digestion and Southern blot.

Required Reagents

Liquid nitrogen, Ethanol, Phenol-chloroform, RNaseA (optional)

Features

■ Simple and fast: The purified gDNA could be obtained within 1 hour.

■ High purity and excellent quality: The high pure genomic DNA could be used directly in downstream experiments such as PCR amplification, restriction enzyme digestion and Southern blot.

Applications

■ Suitable for various plant tissues.

■ Particularly suitable for polysaccaride/polyphenol-rich plant tissues.

■ Particularly suitable for plant powders.

 

DNA Extraction Yield From Various Plant Tissues
Experimental Example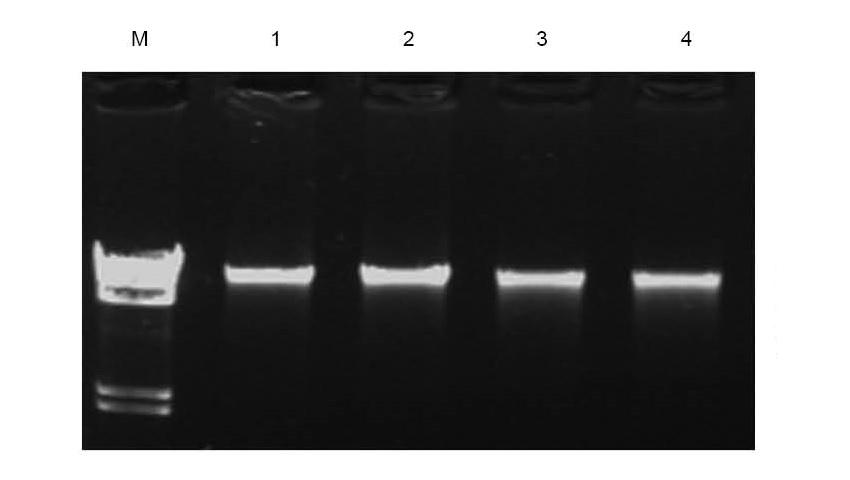 Genomic DNA isolated from 100 mg leaves of different plants using Plant Genomic DNA Kit. 3 μl of 100 μl eluates were loaded per lane.

1: Fresh tomato leaves;

2: Fresh cotton leaves;

3: Fresh tea leaves;

4: Fresh strawberry leaves.

The concentration of the agarose gel was 1%. The electrophoresis was performed under 6 V/cm for 20 min.

M: λDNA/Hind III Marker

 

Publications
■ Wang M. et al. Reference genome sequences of two cultivated allotetraploid cottons, Gossypium hirsutum and Gossypium barbadense. Nat. Genet. 2019; 51: 224-229
■ Wu J, Wang L, Fu J, Chen J, Wei S, Zhang S, Zhang J, Tang Y, Chen M, Zhu J, Lei L, Geng Q, Liu C, Wu L, Li X, Wang X, Wang Q, Wang Z, Xing S, Zhang H, Blair MW, Wang S. Resequencing of 683 common bean genotypes identifies yield component trait associations across a north-south cline. Nat Genet. 2020 Jan;52(1):118-125.
■ Zong Y, Song Q, Li C, Jin S, Zhang D, Wang Y, Qiu JL, Gao C. Efficient C-to-T base editing in plants using a fusion of nCas9 and human APOBEC3A. Nat Biotechnol. 2018 Oct 1.
■ Tao Z, Hu H, Luo X, Jia B, Du J, He Y. Embryonic resetting of the parental vernalized state by two B3 domain transcription factors in Arabidopsis. Nat Plants. 2019 Apr;5(4):424-435.