RNAprep Pure Tissue Kit (ref 4992236)
Storage

DNase I, Buffer RDD, RNase-Free ddH2O (Tubular) should be stored at 2-8℃.

Other reagents could be stored at room temperature (15-25℃)




Description

The RNAprep Pure Tissue Kit provides a fast, simple, and cost-effective method for purification of total RNA from animal tissues by using effective spin column and unique buffer system. The kit includes RNase-Free spin columns CR3 for purifying high-quality RNA by using silica-membrane technology. High-quality total RNA could be obtained in 40-50 minutes with high-purity and is free of protein and genomic DNA contamination.

Required Reagents

β-mercaptoethanol, ethanol

Features

■ Optimized buffers for animal tissues make the process simple and convenient.

■ Unique DNase I minimizes genomic DNA contamination.

■ The higher-purity and ready-to-use RNA is suitable for sensitive downstream applications.

■ No phenol/chloroform extraction, no LiCl and ethanol precipitation, and no CsCl gradients centrifugation are needed, which makes the process safe and reliable.

Applications

■ RT-PCR.

■ Northern Blot, Dot Blot.

■ Real-Time PCR.

■ Chip analysis.

■ PolyA Screening, in vitro translation, RNase protection analysis and molecular cloning.
Experimental Example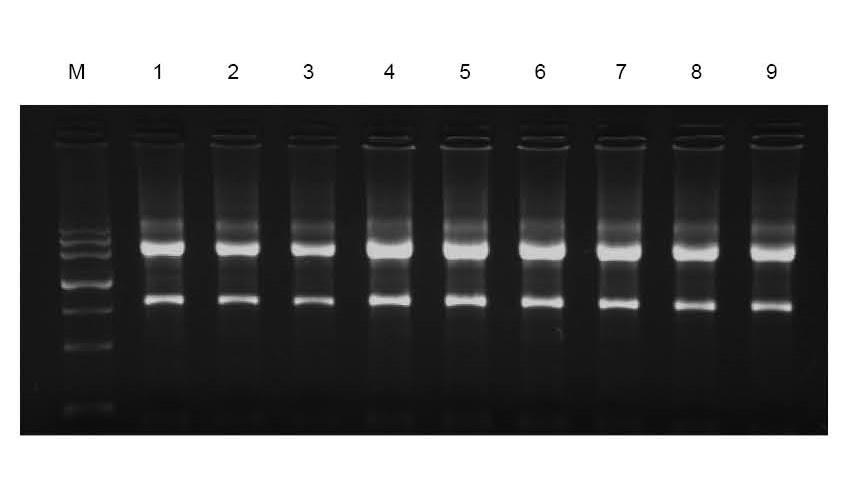 Material: 20 mg embryo (13 days), 15 mg kidney, 10 mg liver, 15 mg spleen, 10 mg thymus, 20 mg lung
Method: Total RNA from different tissue samples of rat was purified using the RNAprep Pure Tissue Kit.
Results: The agarose gel electrophoresis picture is showed above. 2-4 μl of 100 μl eluates were loaded per lane.
M: TIANGEN DNA Marker III;
Lane 1-2: Embryo (13 days); Lane 3: Kidney; Lane 4-6: Liver; Lane 7: Spleen; Lane 8: Thymus; Lane 9: Lung. The electrophoresis was conducted at 6 V/cm for 30 min on 1% agarose gel.
Publications
■ Hu H, Mu Q, Bao Z, Chen Y, Liu Y, Chen J, Wang K, Wang Z, Nam Y, Jiang B, Sa JK, Cho HJ, Her NG, Zhang C, Zhao Z, Zhang Y, Zeng F, Wu F, Kang X, Liu Y, Qian Z, Wang Z, Huang R, Wang Q, Zhang W, Qiu X, Li W, Nam DH, Fan X, Wang J, Jiang T. Mutational Landscape of Secondary Glioblastoma Guides MET-Targeted Trial in Brain Tumor. Cell. 2018 Nov 29;175(6):1665-1678.e18. 
■ Su Y, Huang J, Zhao X, Lu H, Wang W, Yang XO, Shi Y, Wang X, Lai Y, Dong C. Interleukin-17 receptor D constitutes an alternative receptor for interleukin-17A important in psoriasis-like skin inflammation. Sci Immunol. 2019 Jun 7;4(36):eaau9657. 
■ Yuan J, Chen C, Cui J, Lu J, Yan C, Wei X, Zhao X, Li N, Li S, Xue G, Cheng W, Li B, Li H, Lin W, Tian C, Zhao J, Han J, An D, Zhang Q, Wei H, Zheng M, Ma X, Li W, Chen X, Zhang Z, Zeng H, Ying S, Wu J, Yang R, Liu D. Fatty Liver Disease Caused by High-Alcohol-Producing Klebsiella pneumoniae. Cell Metab. 2019 Oct 1;30(4):675-688.e7. doi: 10.1016/j.cmet.2019.08.018. Epub 2019 Sep 19. Erratum in: Cell Metab. 2019 Dec 3;30(6):1172.