TEasy AP 400/600 Automated Pipetting System
Catalog number / packaging
| | | |
| --- | --- | --- |
| Cat. no | ID | No. of preps |
|   | OSE-AP400 | 1 set |
|   | OSE-AP600 | 1 set |


Description
TEasy Automated Pipetting System is a fully automatic and high precision pipetting system. It is specially used for preparing small volume PCR/qPCR system, which can replace manually preparation of PCR/qPCR. The system can ensure the accuracy, precision and repeatability of the experiment, and reduce manual operation errors. Meanwhile, TEasy AP 400/600 Automated Pipetting System can be equipped with UV lamp and HEPA, and can also be used for liquid transfer operation of cell culture.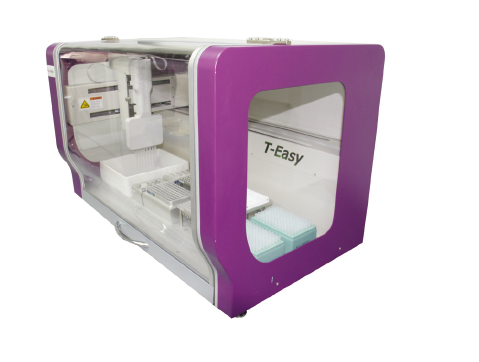 Features
■ Easy to use: The software operation can be easily mastered within 1 hour. The built-in PCR/qPCR preparation program can be modified and transmitted quickly.
■ Compatible consumables: Interchangeable pipette tip with Beckman Biomek 3000 system.
■ Simple maintenance: The automated pipetting module (APM) can be easily replaced and sent back for debugging.
■ High accuracy and precision.
Operating Parameters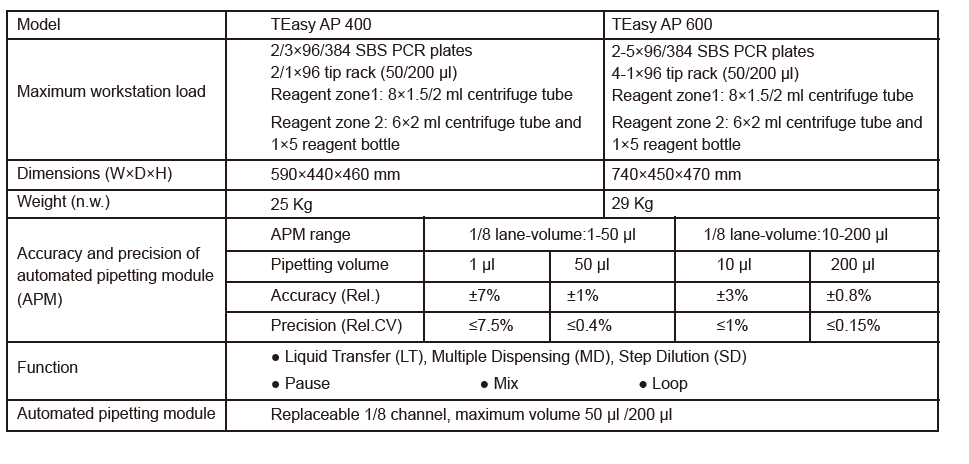 Supporting Blocks